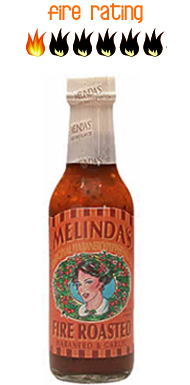 Melinda's Fire Roasted Habanero & Garlic Pepper Sauce has taken Melinda's original recipe using fresh natural ingredients and bumped this hot sauce up a notch in the taste area! Using slow roasted red habanero peppers and garlic add new, intense flavor notes to the mix that is Melinda's, taking this hot sauce to a whole new level in both the heat and flavor factor.
Great for BBQ's, marinating and dipping!
Scoville Heat Units (SHU): unknown
Hot Sauce Brand: Melinda's® Gourmet Habanero Sauces, Figueroa Brothers Inc.
Origin: Costa Rica
Hot Sauce Ingredients: Roasted choice red habanero peppers, fresh carrots, roasted garlic, onions, lime juice, vinegar and salt
Check out more products from: Melinda's® Gourmet Habanero Sauces