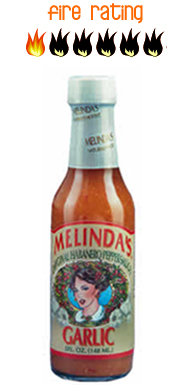 Melinda's Garlic Habanero Pepper Hot Sauce is made with all of the fresh ingredients found in Melinda's traditional recipe but with a generous but not over-bearing helping of fresh garlic . Garlic lovers rejoice! This is the perfect balance of heat and flavor with a lot of extra garlic. Great to use it in Italian dishes, soups, seafood and just about anything you would enjoy hot sauce or garlic on.
Scoville Heat Units (SHU): 1,825
Hot Sauce Brand: Melinda's® Gourmet Habanero Sauces, Figueroa Brothers Inc.
Origin: Costa Rica
Hot Sauce Ingredients: Fresh carrots, choice red habanero peppers, garlic, onions, lime juice, vinegar, and salt
Check out more products from: Melinda's® Gourmet Habanero Sauces