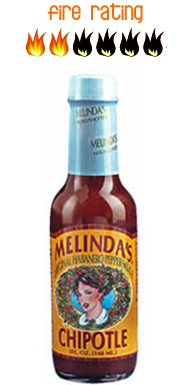 Melinda's Chipotle Sauce is a combination or fresh ingredients, aromatic herbs and spices combined with choice red habanero peppers and chipotle peppers adding a delicious, rich smokey flavor to the mix!.
Great for marinating, a sauce or simply as a dip on all of your favorite foods when you need that much loved hot smokey flavor.or BBQ sauce or put it on tacos, sandwiches, nachos, chili or dip a chip right in.
Scoville Heat Units (SHU): 2,630
Hot Sauce Brand: Melinda's® Gourmet Habanero Sauces, Figueroa Brothers Inc.
Origin: Costa Rica
Hot Sauce Ingredients: Chipotle peppers, choice red habanero peppers, carrots, onions, garlic, key lime juice, vinegar and salt
Check out more products from: Melinda's® Gourmet Habanero Sauces