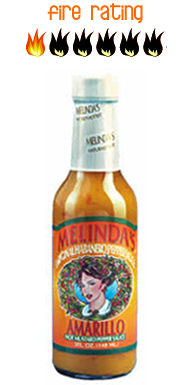 Melinda's Amarillo Hot Sauce has a classic West Indies taste attributed to the hot mustard flavor in this hot sauce.  This all-natural hot sauce adds a flavorful heat to your food making it great on sandwiches, burgers, and hot dogs to name a few!
This mustard pepper hot sauce is also great with potato salads or as a salad dressing. Trying adding some honey and make a delicious sweet-hot dip or add it to your B.B.Q sauce, its most perfect use.
Scoville Heat Units (SHU): 1,125
Hot Sauce Brand: Melinda's® Gourmet Habanero Sauces, Figueroa Brothers Inc.
Origin: Costa Rica
Hot Sauce Ingredients: Fresh onions, habanero peppers, food starch, mustard, sugar, salt, vinegar, flour, tumeric
Check out more products from: Melinda's® Gourmet Habanero Sauces