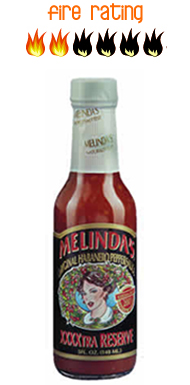 Melinda's Original Habanero XXXXtra Reserve Hot Sauce adds a little more heat to their regular chili sauce recipes. Now and again, optimal growing conditions can produce Habanero crops that yield extremely fiery chilies. At Melinda's, they hand select these Habaneros chilies and age them to make their new XXXXtra Hot Reserve. It is made with the same fresh ingredients present in their famous Original Habanero Recipe. Limited quantities of this sauce is available!
Scoville Heat Units (SHU): 3,500
Hot Sauce Brand: Melinda's® Gourmet Habanero Sauces, Figueroa Brothers Inc.
Origin: Costa Rica
Hot Sauce Ingredients: Hand select choice red habanero peppers, fresh carrots, onions, lime juice, vinegar, garlic, and salt
Check out more products from: Melinda's® Gourmet Habanero Sauces