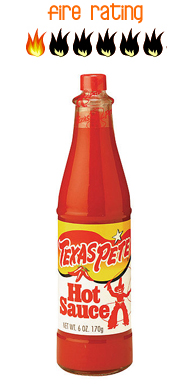 Texas Pete® Original Hot Sauce is a Louisiana-style hot sauce made with a delicious blend of 3 different types of peppers that have been aged to perfection to bring out their natural, bold flavor. The result is a rich, tasty sauce with strong cayenne overtones giving it a good old kick of heat.
Texas Pete® Original Hot Sauce has been going since the 1929 and still is one of their best sellers to date. If you haven't tried this hot sauce, we recommend you do!
Scoville Heat Units (SHU's) : 747
Hot Sauce Brand: TW Garner Food Company, Texas Pete® Hot Sauces
Origin: Winston-Salem, North Carolina, United States
Hot Sauce Ingredients: Peppers, Vinegar, Salt, Xanthan Gum And Benzoate Of Soda (To Preserve Freshness And Flavor).
Check out more products from TW Garner Food Company, Texas Pete® Hot Sauces