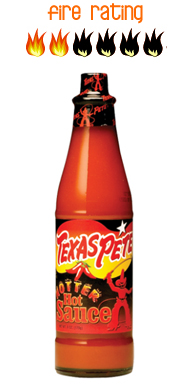 Texas Pete Hotter Hot Sauce is 3 times hotter than Texas Pete® Original Hot Sauce but with all the same tasty flavor! So if you're after a bolder version of  this delicious peppery tangy hot sauce then this one is for you.
Great for marinating and splashing on all you favorite food.
Scoville Heat Units (SHU's) : 2000
Hot Sauce Brand: TW Garner Food Company, Texas Pete® Hot Sauces
Origin: Winston-Salem, North Carolina, United States
Hot Sauce Ingredients: Peppers, Vinegar, Salt, Xanthan Gum And Benzoate Of Soda (To Preserve Freshness And Flavor).
Check out more products from TW Garner Food Company, Texas Pete® Hot Sauces