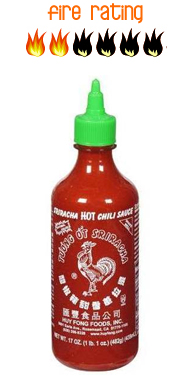 Tuong OT Sriracha is a Vietnamese based chili sauce,  made from sun ripened chilies which are ground into a smooth paste along with a touch of garlic. The handy sqeeze bottle ensures you get the last drop of this beautiful and unique chili sauce which is a good thing as it literally goes on everything. It is excellent in soups, sauces, pastas, pizzas, hot dogs, hamburgers, chowmein, Pho's or on anything else to give it a delicious, spicy taste. There is no aritfical colors or flavors in Tuong OT Sriracha so you have no reason not to reach for the bottle!
Scoville Heat Units (SHU): 2200
Origin: Vietnam
Hot Sauce Brand: Huy Fong Foods, Inc.
Hot Sauce Ingredients: Paste of red jalapeno chili peppers, distilled vinegar, garlic, sugar and salt.
Check out more products from: Huy Fong Foods, Inc.