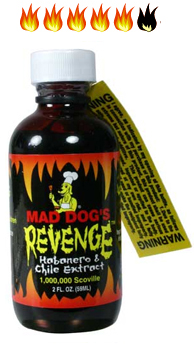 This is one of the  daddys of all hot sauces! Mad Dog's Revenge Habanero & Chile Extract  crams over 12 pounds of smokin' hot peppers into this tiny 2oz bottle, delivering  a mind blowing explosion of pure hellish habanero flavor. Its a whooping 45o times HOTTER than TABASCO HOT Sauce!
This little bottle comes heavly with a disclaimer: WARNING DO NOT CONSUME DIRECTLY; FOOD ADDITIVE ONLY. Chili lovers . . take heed!
Scoville Heat Units (SHU) : 1,000,000
Hot Sauce Brand: Mad Dogs  Hot Sauces
Origin: United States
Hot Sauce Ingredients: Chilli extract, Habanero chile extract, soy bean oil.