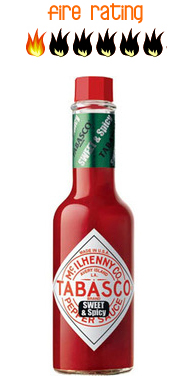 Another truly special hot sauce from The McIlhenny Family, this time with an oriental twist! Introducing TABASCO Sweet & Spicy! This hot sauce is a unique blend of Asian flavors with TABASCO Pepper Sauce. It really is their most versatile to-date and so god damn yummy you'll be using it a dip for all of your favorite foods!
Scoville Heat Units (SHU): 100 – 600
Hot Sauce Brand: TABASCO®  Brand – McIlhenny Company, since 1868
Origin: The Avery Islands, Louisiana, United States
Hot Sauce Ingredients: Corn syrup, red pepper, sugar, distilled vinegar, pear concentrate, garlic, onion, Tabasco Brand Pepper Sauce (distilled vinegar, red pepper, salt), ginger, salt and spice.
Check out more products from: TABASCO