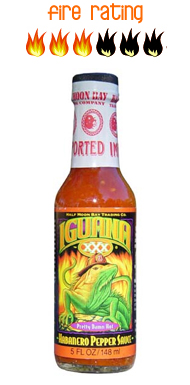 Created among the classics of Belize, Honduras and Costa Rica, Iguana XXX Habanero Pepper Sauce is a hot, classically-styled sauce featuring a 50% aged habanero base with carrot, onion, garlic, tomato and lime juice rounding its full-bodied taste. The striking natural orange colour comes from the dominant ripe habanero and carrot base. Its thick and pulpy texture and robust flavour come on strong and feature the famous and fabulous delayed habanero burn.
Iguana XXX is not to be confused with ridiculously hot habanero sauces that are fortified with pepper extracts. As the label says, this all-natural pepper sauce is "Pretty Damn Hot" — without being artificially so.
Scoville Heat Units (SHU): unknown
Hot Sauce Brand: Half Moon Bay Trading Co.
Origin: Costa Rica
Hot Sauce Ingredients: Fresh Ripe Habañero Peppers, Carrots, Vinegar, Onions, Lime Juice, Tomato Paste, Salt And Garlic, With Ascorbic Acid.