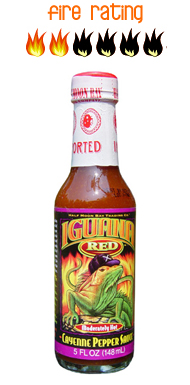 Iguana Red Cayenne Pepper Sauce is a 'moderately hot' hot-sauce that that lets the full flavors speak for themselves. Unlike a lot of hot sauces, you really get to taste the rich tomato, carrot and onion flavors coming through. This is a great sauce for people who like a gentle kick!
Scoville Heat Units (SHU): 430
Hot Sauce Brand: Half Moon Bay Trading Co.
Origin: Costa Rica
Hot Sauce Ingredients: Cayenne peppers, carrots, tomato paste, onions, garlic, vinegar, cane sugar, corn starch, salt and molasses. No Fat, No Cholesterol.