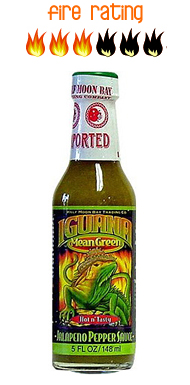 A hot but tasty salsa with a good  blend of heat and flavor!  The first wave of flavor that hits your mouth is the fabulous onion, garlic and jalapeno blend, followed by a perfect dose of that jalapeno heat. Iguana Mean Green Hot Sauce rules in all seafood, chicken and pork dishes, not to mention eggs, beans and rice, soups, chili and in marinades for the grill. That's why this hot sauce is often found gracing many a table in a Costa Rican establishment!
Scoville Heat Units (SHU): 15,000-30,000
Hot Sauce Brand: Half Moon Bay Trading Co.
Origin: Costa Rica
Hot Sauce Ingredients: Jalapeno peppers, carrots, onions, garlic, vinegar, sugar, salt, and corn starch. No Fat, No Sugar, No Calorie, No Cholesterol.