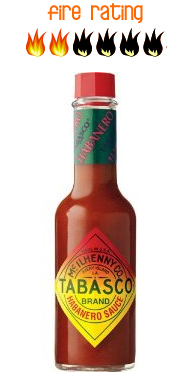 Follow heat lovers, meet the daddy of the TABASCO hot sauce family! Introducing the TABASCO  Habañero Sauce, a Jamaican-Style pepper hot sauce brought to you by the McIlhenny family.
Blended with mango, papaya, banana, tamarind and ground black pepper, this hot sauce is a fruity, yet fiery sauce that adds a Caribbean touch to any dish.  It delivers the ultimate heat, Jamaican style!
Scoville Heat Units (SHU) : 7000-12000
Hot Sauce Brand: TABASCO®  Brand – McIlhenny Company, since 1868
Origin: The Avery Islands, Louisiana, United States
Hot Sauce Ingredients: Habañero peppers, distilled vinegar, cane sugar, Tabasco brand pepper sauce, salt, mango puree, onion, banana puree, tomato paste, tamarind puree, papaya puree, spices, Tabasco brand pepper mash and garlic. No Fat.
Check out more products from: TABASCO