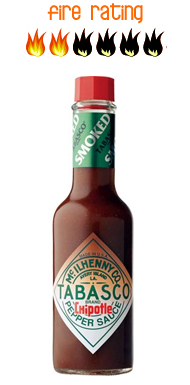 TABASCO® Chipotle Sauce, pronounced (chee-POHT-lay) is a smokingly unique sauce is made from Red Jalapeño peppers dried slowly over smoldering pecan wood. Since the time of the Aztecs, the Chipotle pepper has been prized for its dark, smokey flavor. Vine-ripened and slow-smoked to perfection over a slow fire, this pepper produces a thick-bodied sauce for the perfect balance of heat and flavor, ideal for grilling or marinating meats. Fire up the grill with TABASCO® Chipotle Sauce and let your imagination be your guide.
Scoville Heat Units (SHU) : 2000-2500
Hot Sauce Brand: TABASCO®  Brand – McIlhenny Company, since 1868
Origin: The Avery Islands, Louisiana, United States
Hot Sauce Ingredients: Chipotle Pepper, Distilled Vinegar, Water, Salt, Sugar, Onion Powder, Garlic Powder, Spices, Natural Flavor, Tabasco Brand Pepper Pulp(Red Pepper, Distilled Vinegar, Salt). No Fat, No Calorie, No Sugar!