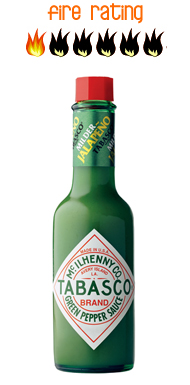 Fellow variety seekers and dual users who crave different heat levels and pepper flavors . . look no further! TABASCO Green Pepper with it's mild, green jalapeno flavor delivers just that. This little chap wont blow you away but it will help you tap into the bold & flavorful food trends you so crave!
Scoville Heat Units (SHU): 600-1200
Hot Sauce Brand: TABASCO®  Brand – McIlhenny Company, since 1868
Origin: The Avery Islands, Louisiana, United States
Ht Sauce Ingredients: Distilled vinegar, Jalapeño pepper and salt.