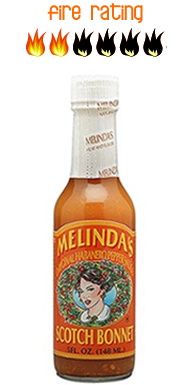 Melinda's Scotch Bonnet Habanero Pepper Sauce  uses choice Scotch Bonnet peppers. This hot sauce blends these bold chili with fresh carrots, papaya, passion fruit, and other natural ingredients for a truly fiery, fruity experience. The result is a complex West Indies taste that enhances the flavor of your foods without drowning out the original flavor.
Scoville Heat Units (SHU): unknown
Hot Sauce Brand: Melinda's® Gourmet Habanero Sauces, Figueroa Brothers Inc.
Origin: Costa Rica
Hot Sauce Ingredients: Choice Scotch Bonnet peppers, Fresh Carrots, Papayas, Salt, Lime Juice, Acetic Acid, Onion, Passion Fruit Juice, Citric Acid, Garlic, Xanthan Gum
Check out more products from: Melinda's® Gourmet Habanero Sauces