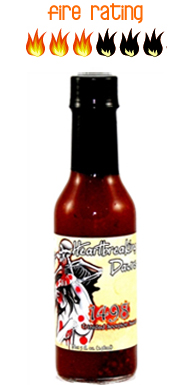 Heartbreaking Dawn's 1498 Trinidad Scorpion Pepper Sauce, released in 2011, is a great mix of both flavor and fire. Heart Breaking Dawn has used a fresh Trinidad Scorpion Peppers and balanced them out with some Scotch Bonnets, creating a very high heat that drops off just before becoming TOO uncomfortable. This hot sauce also includes apricots, blueberries and carrots to accent the burst of floral notes from the Scorpion Peppers.
This sauce reflects a full gallery of taste sensations, with a bold high heat, that will compliment  any dish you can think up!
Scoville Heat Units (SHU): unknown
Origin: The Hudson Valley, United Sates
Hot Sauce Ingredients: Trinidad Scorpion Peppers, Scotch Bonnet Peppers, Cider Vinegar, Apricot Preserves, Water, Blueberries, Carrots, Honey, Onion, Soy Sauce, Sea Salt, Garlic, Ginger, White Pepper.
Check out more products from: Heartbreaking Dawns