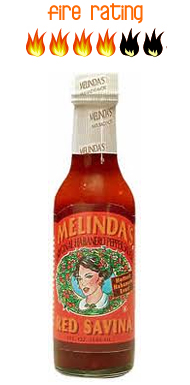 Melinda's Hot Sauces specializes in habanero pepper hot sauces. The Red Savina variety used to make Melinda's Red Savina Pepper Sauce is about twice as hot as a regular habanero pepper. Apparently it used to be the hottest chili until the ghost pepper over took it. There's a lovely sweetness to this hot sauce, probably due to the fresh carrots, onions and limes used. This is followed by a good dry heat.
Melinda's Red Savina Pepper Sauce was laboratory tested at 577,000 Scoville Heat Units.  This sauce is one of the hottest and should really be used a drop at a time, especially if you value your taste buds! This is a truly fantastic hot sauce blend, and in a delightful bottle to top it off!
Scoville Heat Units (SHU): 577,000
Hot Sauce Brand: Melinda's® Gourmet Habanero Sauces, Figueroa Brothers Inc.
Origin: Costa Rica
Hot Sauce Ingredients: Red Savina peppers, Hand-select choice red habanero peppers, fresh carrots, onions, lime juice, vinegar, garlic and salt
Check out more products from: Melinda's® Gourmet Habanero Sauces