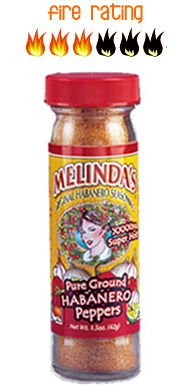 Melinda's Pure Ground Habanero Peppers is made simply from the delicious habanero peppers to create a  wave of heat to whatever you use this on. Try rubbing it on meats or spicing up anything that tickles your fancy.
Warning! This product is extremely hot so use with caution and certainly don't get it in your eyes!
Scoville Heat Units (SHU): unknown
Hot Sauce Brand: Melinda's® Gourmet Habanero Sauces, Figueroa Brothers Inc.
Origin: Costa Rica
Hot Sauce Ingredients: Ground habanero peppers
Check out more products from: Melinda's® Gourmet Habanero Sauces