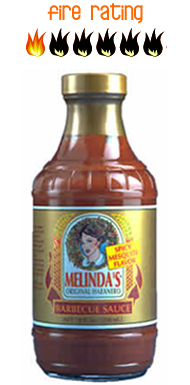 Melinda's Habanero BBQ Sauce is made using only the highest quality ingredients of fresh carrots, onions, garlic, and a hint of lime juice with the Habanero pepper. The result is a barbeque sauce that harmonizes heat and flavor without the overpowering pungency found in traditional vinegar-based barbecue sauces. Melinda's vegetable base allows you to spice your food without drowning out the original flavor.
Scoville Heat Units (SHU): unknown
Hot Sauce Brand: Melinda's® Gourmet Habanero Sauces, Figueroa Brothers Inc.
Origin: Costa Rica
Hot Sauce Ingredients: Tomato puree, mustard, sugar, vinegar, corn syrup, pepper sauce, habanero peppers, garlic powder, onion powder, salt, mesquite flavor, xanthum gum, red peppers, and caramel color
Check out more products from: Melinda's® Gourmet Habanero Sauces