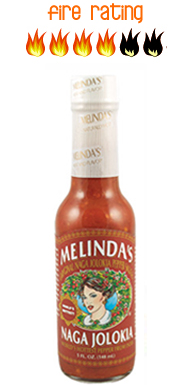 Melinda's Naga Jolokia Pepper Sauce is their hottest hot pepper sauce by far, measuring in at a massive 128,450 scoville heat units (SHU). Confirmed by the Guinness Book of Records to be the hottest chili in the world, the naga chilies used in Melinda's Naga Jolokia Pepper Sauce sure packs a punch! Melinda has carefully blended the naga jolokia chillies with fresh carrots, papayas, passion fruit and lime juice to help complement the naga heat.
Warning! This hot sauce should be consumer one tooth-pick drop at a time!
Scoville Heat Units (SHU): 128,450
Hot Sauce Brand: Melinda's® Gourmet Habanero Sauces, Figueroa Brothers Inc.
Origin: Costa Rica
Hot Sauce Ingredients: Naga Jolokia Peppers, Carrots, Papayas, Lime Juice, Vinegar, Onions, Passion Fruit, Citric Acid, Garlic, Salt, Xanthan Gum.
Check out more products from: Melinda's® Gourmet Habanero Sauces