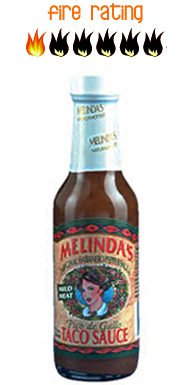 Melinda's (mild heat) Pico de Gallo Taco Sauce continues there tradition by using fresh, all-natural ingredients, aromatic herbs and spices. These ingredients are blended perfectly with the rich smokey flavors of the chipotle peppers and their signature pepper, the habanero. The result is a great taco sauce with a crisp texture and a perfect balance of heat and flavor. Try it on tacos, burritos, empanadas, enchiladas, gourmet wraps or simply as a dip.
Scoville Heat Units (SHU): unknown
Hot Sauce Brand: Melinda's® Gourmet Habanero Sauces, Figueroa Brothers Inc.
Origin: Costa Rica
Hot Sauce Ingredients: Chipotle peppers, choice red habanero peppers, carrots, onions, garlic, key lime juice, vinegar and salt
Check out more products from: Melinda's® Gourmet Habanero Sauces