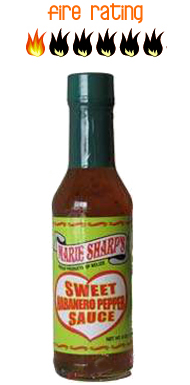 Marie Sharp's Sweet Habanero Pepper Sauce  is a sweet sauce but with a little habanero bite. This sauce is ideal for dipping, used with hors d'oeuvres, on crackers, nachos, and on meats and fish. Marie Sharp recommends you try this sauce on salads in place of dressings!
Available in 5 oz and 10 oz bottles.
Scoville Heat Units (SHU): unknown
Hot Sauce Brand: Marie Sharp's Fine food Ltd
Origin: Belize
Hot Sauce Ingredients: Choice fresh red habanero pepper pieces, onions, garlic, cilantro, sugar, vinegar, lime juice, and pectin.
Check out more products from: Marie Sharp's Fine Foods Ltd