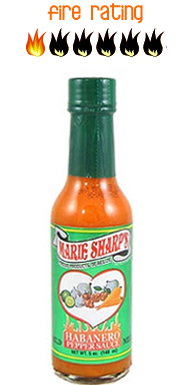 Marie Sharp's Red Habanero Pepper Jelly is made with red habaneros and spices resulting in a spicy and perfectly seasoned jelly. This is a perfect condiment for your meats and is also delicious served with cheese and crackers.
Marie Sharp's varieties of jams and jellies are made with natural ingredients and exotic fruits. They all have high fruit content, no preservatives, and no artificial colors. We use unrefined sugarcane and they are as natural as it gets. And with only 17 calories per serving . .what's holding you back?
Available in 8 oz, 11 oz  and 20 oz jars.
Scoville Heat Units (SHU): unknown
Hot Sauce Brand: Marie Sharp's Fine food Ltd
Origin: Belize
Hot Sauce Ingredients:  Choice fresh red  habanero pepper pieces, onions, garlic, cilantro, sugar, vinegar, lime juice & pectin. 1.4mg sodium
Check out more products from: Marie Sharp's Fine Foods Ltd