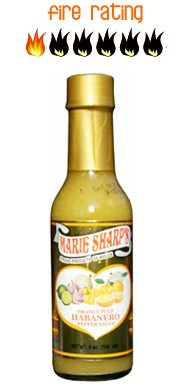 Marie Sharp's Orange Pulp Habanero Pepper Sauce  is made from a delicious fresh blend of select yellow habaneros and orange pulp. The citrus enhances and brings out the habanero flavor making it extremely good on seafood, salads and chicken.
Available in 5 oz and 10 oz bottles.
Scoville Heat Units (SHU): unknown
Hot Sauce Brand: Marie Sharp's Fine food Ltd
Origin: Belize
Hot Sauce Ingredients: Select yellow habanero peppers, orange pulp, onions, key lime juice, vinegar, water and salt.
Check out more products from: Marie Sharp's Fine Foods Ltd