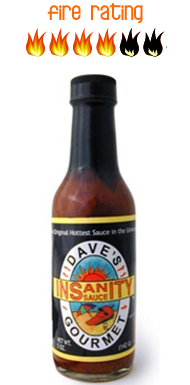 Dave a.k.a the "Spice Meister" calls his Daves's Gourmet Insanity Hot Sauce "the original hottest sauce in the universe." In 1993 Dave went to the National Fiery-Foods Show where his product was banned. According to Dave DeWitt, who produces the National Fiery-Food & Barbecue Show (as it's now called), "Insanity Sauce was just too hot for the normal method of tasting–getting a dollop on a cracker or tortilla. So we eventually had to come up with a method to allow the tasting of super-hot sauces, and there are now many of them to be sampled. There are no problems today." The method was to allow tasting only on the end of a toothpick.
And thus Dave's Gourmet Insanity Hot Sauce was responsible for spawning the ultra-hot hot sauce craze. Over the years, this sauce has developed a near-fanatical (insane, perhaps?) following, and is often used as the benchmark for serious chili-heads. Some go as far as saying that if you haven't tried Dave's Insanity Hot Sauce, you're not really a chili-head.
Scoville Heat Units (SHU) : 57,000
Hot Sauce Brand: Dave's Gourmet Inc.
Origin: United States
Hot Sauce Ingredients: Red habanero, hot pepper extract, red chilies, tomato paste, salt, onions, cane vinegar, acetic acid, garlic, vegetable oil, xanthan gum, citric acid.
Check out more products from: Dave's Gourmet Inc.