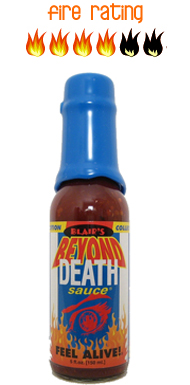 Blair's Beyond Death Hot Sauce is a part of the line of Blair's Death products.
Originally formulated in 1992 and brought back from the dead in 2007. This hot chili sauce is guaranteed to make you Feel Alive. Each Bottle is Hand dipped In Italian Blue Hard Wax.
Please Note: 4 Different Labels are in print. If you buy a set of four Beyond Death Hot Sauces, they will be signed.
Blair's Death Sauces contains absolutely no preservatives or artificial ingredients.
Scoville Heat Units (SHU) : 99,760
Hot Sauce Brand: Blair's Sauces and Snacks – Home of the Death Sauces since 1989
Origin: United States
Hot Sauce Ingredients: Red and Orange Habaneros,Vinegar, Fresh Cayenne, Smashed Garlic, Chipotle, Lime Juice, Cilantro, Fresh Herbs, and Spices.
Check out more products from: Blair's Hot Sauces and Snacks