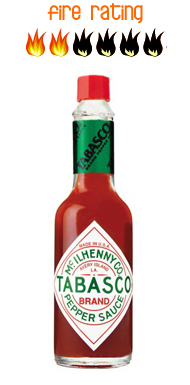 Hot Sauce Reviewed: TABASCO Original Hot Sauce
Reviewed By: Naga Natalie, Chili Sauces Chief Taster
For me, this little bottle of hot sauce is where is all started. So much so I carried it wherever I went. Like most first loves though, it didn't take me long until I realized there was hotter, tastier and stronger out there. And so onwards and upwards I went, leaving my little bottle of joy in the cupboard whilst I experimented with the bigger boys!
I still return to my old faithful and in fact have one of those jumbo bottles in my cupboard. I especially love to use TABASCO on salads. I replace my vinegar with TABASCO and add my various oils and spices to make my salad dressing and I feel that works perfectly.
You never can go wrong with TABASCO, and with over 140 years spicing up people food, they certainly have found the recipe to success!
Check out more products from: TABASCO®