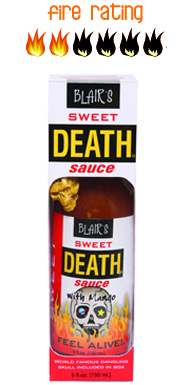 Blair's Sweet Death Sauce with Mango  is a part of the line of Blair's Death products.
This certainly has a milder heat of all the Blair's Sauces but what it lacks in heat, it certainly makes up in flavor with a lovely sweet twist.
Suitable for all of the family (not often you can say this about Blair's products)
Blair's Death Sauces contains absolutely no preservatives or artificial ingredients.
Scoville Heat Units (SHU) : 3,450
Hot Sauce Brand: Blair's Sauces and Snacks – Home of the Death Sauces since 1989
Origin: United States
Hot Sauce Ingredients: Vinegar, corn syrup, honey, mango, passionfruit, sugar cane, Habanero peppers, carrots, tomato paste, onion, lemon juice, salt, cayenne pepper, all spice, garlic, cloves, and black pepper.
Check out more products from: Blair's Hot Sauces and Snacks