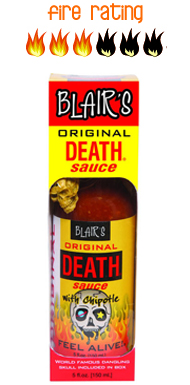 Blair's Original Death Sauce with Chipotle is a part of the line of Blair's Death products.
On the heat side, It's between the lowest and the medium heat in that series of sauces. This means you can really taste the lovely flavors without destroying your taste buds! There's a lovely BBQ smokey flavor, attributed to the Chipotle combined with orange and red habanero peppers and some fresh cayenne.
Blair's Original Death Sauce contains absolutely no preservatives or artificial ingredients.
Scoville Heat Units (SHU) : 35,000
Hot Sauce Brand: Blair's Sauces and Snacks – Home of the Death Sauces since 1989
Origin: United States
Hot Sauce Ingredients: Red and orange habaneros, vinegar, fresh cayenne, smashed garlic, chipotle, lime juice, cilantro, fresh herbs and spices.
Check out more products from: Blair's Hot Sauces and Snacks