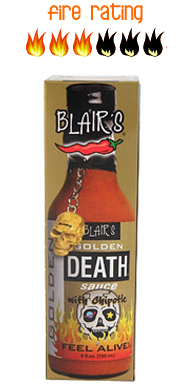 Blair's Golden Death Sauce with Chipotle  is a part of the line of Blair's Death products.
This is certainly one of their milder hot sauces but some say it is so goldelicious it's practically drinkable! This hot sauces is great on pretty much everything, and adds a little sweetness thanks to the addition of the cane-sugar. There is also a nice hint of onion and mustard seed to this hot sauce which makes this new member of the Blair Family fit right in!
Blair's Death Sauces contains absolutely no preservatives or artificial ingredients.
Scoville Heat Units (SHU) : 34,000
Hot Sauce Brand: Blair's Sauces and Snacks – Home of the Death Sauces since 1989
Origin: United States
Hot Sauce Ingredients: Scotch Bonnet Pepper, Fresh Onion, Cane Vinegar, Mustard Seeds, Habanero Powder, Salt, Turmeric, and Ascorbic Acid
Check out more products from: Blair's Hot Sauces and Snacks