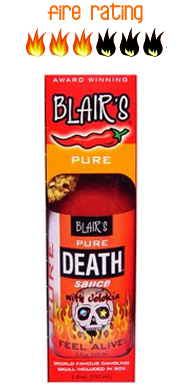 Blair's Pure Death Sauce with Jolokia  is a part of the line of Blair's Death products.
The heat level of this hot sauce is probably in the mid range of Blair's Hot Sauces. This creates a good balance between heat and flavors from the orange habanero chili pods, vinegar and Hawaiian red salt for a clean, crisp result.
Blair's Death Sauces contains absolutely no preservatives or artificial ingredients.
Scoville Heat Units (SHU) : 48,000
Hot Sauce Brand: Blair's Sauces and Snacks – Home of the Death Sauces since 1989
Origin: United States
Hot Sauce Ingredients: Habanero Chili Pods, Naga Jolokia, Vinegar, Hawaiian Red Salt.
Check out more products from: Blair's Hot Sauces and Snacks