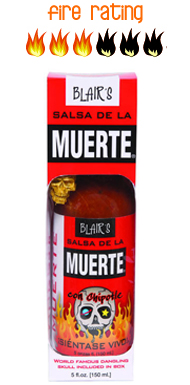 Blair's Salsa de la Meurte Hot Sauce with Chipotle  is a part of the line of Blair's Death products.
This is the Latin American export version of Blair's Original Death Sauce. Salsa de la Meurte is jacked up with 50% more Habanero chili peppers which guaranteed to make you Feel Alive!
Blair's Death Sauces contains absolutely no preservatives or artificial ingredients.
Scoville Heat Units (SHU) :45,000
Hot Sauce Brand: Blair's Sauces and Snacks – Home of the Death Sauces since 1989
Origin: United States
Hot Sauce Ingredients: Habaneros Rojos y Anarajados, Vinagre, Pinienta De Cayena Fresca, Ajo Triturado, Chipotle, Jugo De Lima, Cilantro, Hierbas y especias frescas. English: Red and orange habaneros, vinegar, fresh cayenne, smashed garlic, chipotle, lime juice, cilantro, fresh herbs and spices.
Check out more products from: Blair's Hot Sauces and Snacks