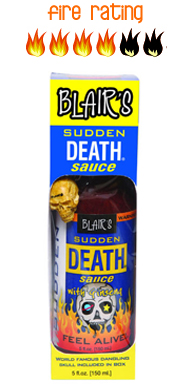 Blair's Sudden Death Sauce with Ginseng  is a part of the line of Blair's Death products.
Blair's Sudden Death Sauce with Ginseng Won 2nd Place at the 2002 Chile Pepper Magazine Fiery Food Challenge in the XXX Hot Hot Sauce Category! This is a very hot sauce, which should be used one toothpick drop at a time.
Made with real Siberian Ginseng, clover honey and key lime juice and spices, if you're able to get through the heat factor, you might just manage to taste those lovely ingredients!
Each bottle comes in it's very own coffin, probably a warning to all of you chili heads!
Blair's Death Sauces contains absolutely no preservatives or artificial ingredients.
Scoville Heat Units (SHU) : 105,000
Hot Sauce Brand: Blair's Sauces and Snacks – Home of the Death Sauces since 1989
Origin: United States
Hot Sauce Ingredients: Red Habanero pepper pods, Cayenne peppers, pepper Resin & Siberian ginseng, white vinegar, soybean oil, clover honey, Key lime juice & spices.
Check out more products from: Blair's Hot Sauces and Snacks