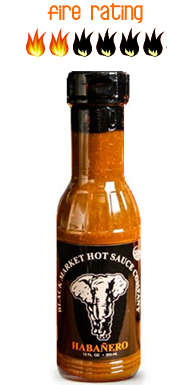 What better way for us chili lovers at Chili-Sauces.com to celebrate Black Friday than to list this 'new to the chili scene' hot sauce, Black Market Habanero Hot.
Black Market Hot Sauce Company produce one of the more flavorful hot sauces on the market today, where the focus is on flavor rather than overbearing heat.
Black Market currently produce three hot sauces, with Black Market Habanero Hot being their hottest. Each hot sauce they produce uses the freshest high quality ingredients to provide a great taste for every hot sauce need, whether its dipping, marinating or a bit on the side, Black Market will add wonders to any food!
Scoville Heat Units (SHU): Unknown
Hot Sauce Brand: Black Market
Origin: Washington, Everson, United States
Hot Sauce Ingredients: Habaneros, Jalapenos, Ginger, Garlic, Lime, Cilantro, Paprika