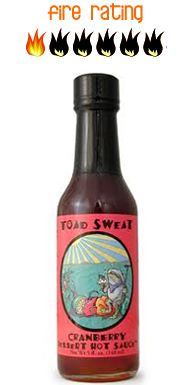 Originally a dessert hot sauce, Toad Sweat Cranberry Dessert Hot Sauce can really be used on everything!
If you're wondering what to marinate you meats with for Thanksgiving . . look no further! This fruity delicious hot sauce made with cranberries, cocoa and cinnamon followed by a gentle habanero heat will have you finishing the bottle in no time.
Toad Sweat Cranberry Dessert Hot Sauce can be used as a marinade and a sauce for you main course. Then for dessert try adding this to Ice Cream or Pecan Pie to really warm things up!
If you want to bring a bottle to your Thanksgiving feast . . we suggest this one!
Scoville Heat Units (SHU): 160
Hot Sauce Brand: Toad Sweat – Original Dessert Hot Sauce
Origin: United States
Hot Sauce Ingredients: Evaporated Cane Juice, Cranberry Juice, Water, Habanero Pepper, Vanilla Extract, Cocoa,Spices.