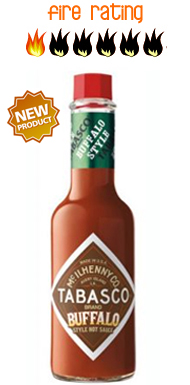 This is TABASCO's latest addition to the iconic line of TABASCO  Pepper Sauce flavors. Introducing TABASCO Buffalo Sauce with a Scoville rating slightly higher than their lowest sauce, Tabasco Sweet and Spicy Pepper Sauce. This cayenne pepper based hot sauce has been much anticipated and requested to join its other family of flavors, adding authentic Buffalo flavor to an array of foods, like hot wings, sandwiches and burgers, BBQ and meats!
"We've been producing pepper sauces for over 140 years, so it's very important that every sauce we add to the TABASCO® portfolio lives up to the high-quality standard set by our original red sauce," said Paul McIlhenny, president and CEO of McIlhenny Company, maker of TABASCO® brand Products. "So this year, after much development and consumer feedback, we're proud to welcome this Buffalo Style Hot Sauce into our Family of Flavors."
Scoville Heat Units (SHU's) : 300-900 
Hot Sauce Brand: TABASCO®  Brand – McIlhenny Company – since 1868
Origin: The Avery Islands, Louisiana, United States
Hot Sauce Ingredients: Red cayenne pepper, salt, water, distilled vinegar and garlic.