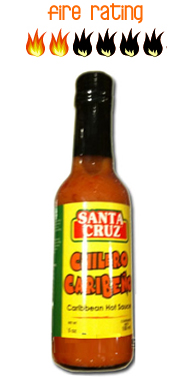 Hot Sauce Reviewed: Santa Cruz Chilero Caribeño Caribbean Hot Sauce
Reviewed By: Naga Nat, Chili Sauces Chief Taster
I had to add this hot sauce to our collection as it is my absolute favorite! I eat this with EVERYTHING! If asked what one item I would bring with me to a desert island . .Santa Cruz Chilero Caribeño Hot Sauce would be it!
This hot sauce can be found on shelves and in restaurants throughout Costa Rica and I've looked on many other chili websites and NO ONE lists this hot sauce!
So here is the first review of this bottle of spicy wonderfulness! This beautiful hot sauce has a flavor like no other. The first taste is a fiery, peppery, mustard flavor with a bang. The more you eat this hot sauce the bigger the bang gets. Once you try this sauces fellow chili heads, you wont be able to eat with out it!
Check our more of Santa Cruz's Hot Sauces