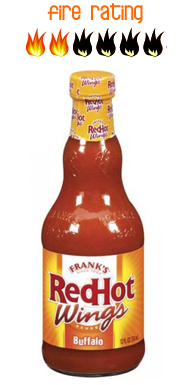 We all know Grandma Ethel puts the shit on everything, and who knew Ethel was such a wing lover? Frank's RedHot Wings hot sauce has a natural butter flavor and is perfect if you want to spice things up when having friends or family over for a bbq. This American favorite mild hot sauce comes with a bit of kick acceptable for all ages.
Scoville Heat Units : 1,800 (SHU's)
Hot Sauce Brand: Durkee Famous Foods
Origin: United States
Hot Sauce Ingredients: Distilled Vinegar, Aged Cayenne Red Peppers, Salt, Water, Canola Oil, Spice, Natural Flavor, Xanthan Gum, Sodium Benzoate (As A Preservative), Natural Butter Type Flavor And Garlic Powder.