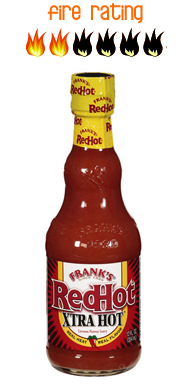 You probably know this sauce from their commercials featuring Ethel, an elderly lady who proclaims she, 'puts this s*** on everything'! Ethel may be a bit daft but she sure knows her s***! Franks RedHot Xtra Hot Sauce is one yummy, tangy delightful hot sauce that goes perfect with some barbecued wings . . or anything barbecued for that matter! Note, this hot sauce is milder than Tabasco, so if you want a bit more kick, then this one isn't for you.
If you don know much about this delightful hot sauce let me fill you in. Frank's RedHot's recipe dates to 1896 to the Frank's Tea and Spice Company in Cincinnati, Ohio. In 1918, owner Jacob Frankin contracted the Estilette Pepper Farm in Louisiana where Adam Estilette and Frank became business partners. The two men mixed spices, vinegar, garlic and cayenne peppers and allowed them to age, creating the original blend of Frank's RedHot as it first appeared on the market in 1920.
Scoville Heat Units (SHU's) : 2,085
Hot Sauce Brand: Frank's Hot Sauces, Durkee Famous Foods
Origin: United States
Hot Sauce Ingredients: Red and Orange Habaneros, Vinegar, Fresh Cayenne, Smashed Garlic, Chipotle, Pepper Extract, Lime Juice, Cilantro, Fresh Herbs and Spices.
Check out more products from: Frank's Hot Sauces, Durkee Famous Foods