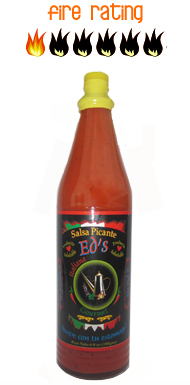 Hot Sauce Reviewed: Ed's Salsa Picante Italiana
Reviewed By: Naga Natalie, Chili Sauces Chief Taster
Ok, so I'm not 100% of the origin of this hot sauce, but I'm about 97% its from Costa Rica. What thows me off is the 'Italiana' written on the label and the Italian flag. But it does say made in Cosra Rica and their website lists all the places they sell this wonderful sauce . . in Costa Rica. So based on that, meet Ed's Salsa Picante Italiana . . . made in Costa Rica!
I met this hot sauce the other night in Cassava Bar and Grill in Escazu, San Jose. EVERY time I go to a restaurant I will always ask them to bring out their best hot sauce.  It usually follows in the same breath I order my drink because I want to make sure the hot sauce os sat on my table well before my food arrives . .so I am ready and prepared!
Alot of the time, the server will bring out a bottle of TABASCO, but now and again they bring out a new and wonderful hot sauce for me to try! And this is how I encountered Ed's Salsa Picante Italiana hot sauce! A fellow chili lover who was dining with me, immedeatley loved this one as it has NO vinegar in it. He's not too partial to vinegary tasting hot sauces. I understand why its got the Italian part to the label as it tastes exactly like a spicy bolognase pasta sauce. Its peppery and fiery and needless to say, I took the bottle home with me . . .(i do nromally ask the restauant when I do this!)
So folks, if you haven't tried it, definitely do! Great as a marinade (i'll be trying it later on some buffalo wings we're going to BBQ) spice booster or as a dip . .for those of you hot sauce maniacs who can handle the heat!
Check our more of Ed's Hot Stuff Gourmet Hot Sauces