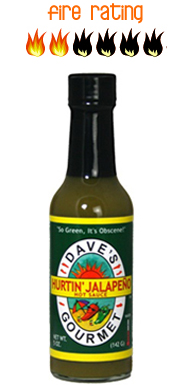 'Too Green It's Obscene" is the slogan on the bottle Dave's Gourmet Hurtin' Jalapeno Hot Sauce.
The secret ingredient in this hot sauce is chayote, originally native to Mexico. This pear shape fruit adds a lovely faint nutty flavor to Dave's Gourmet Hurtin' Habanero Hot Sauce mixed with Jalapenos to give it a good amount of heat. This hot sauce is especially good on pizzas and burritos!
Scoville Heat Units (SHU): unknown
Hot Sauce Brand: Dave's Gourmet Inc.
Origin: United States
Hot Sauce Ingredients: Water, chayote, jalapeños, onions, garlic, cilantro, lime juice, cane vinegar, salt, xanthan gum, spices
Check out more products from: Dave's Gourmet Inc.