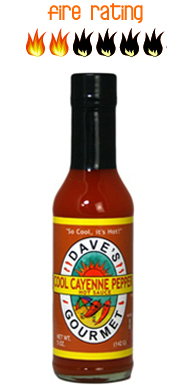 'So Cool its Hot!" is the slogan on the bottle Dave's Gourmet Cool Cayenne Pepper Hot Sauce. Made with aged cayenne pepper and cane vinegar, this mild hot sauce literally goes on everything!
Scoville Heat Units (SHU): 4,325
Hot Sauce Brand: Dave's Gourmet Inc.
Origin: United States
Hot Sauce Ingredients: Cane vinegar, Red cayenne chilies, salt, acetic acid, xanthan gum, garlic, onions.
Check out more products from: Dave's Gourmet Inc.