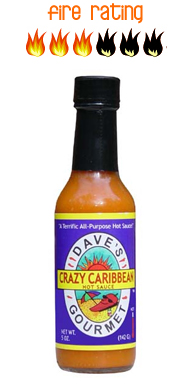 Dave aka The Spice Meister has hit the nail on the head with this hot sauce. For those of you still with taste buds, Dave's Gourmet Crazy Caribbean hot sauce is a tropical fusion of carrots, rican red habaneros (which add a nice touch) and lime juice! You'll be amazed at how quickly you can polish off a bottle of this marvelous stuff!
Scoville Heat Units (SHU): unknown
Hot Sauce Brand: Dave's Gourmet Inc.
Origin: United States
Hot Sauce Ingredients: Carrots, rican red habaneros, lime juice, cane vinegar, red chilies, onion, garlic, water, salt, ascorbic acid
Check out more products from: Dave's Gourmet Inc.