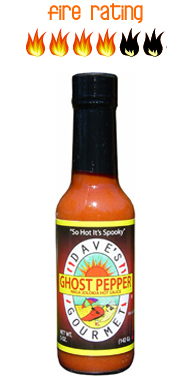 Meet Dave's Gourmet Ghost Pepper Hot Sauce, the newest member of the Dave Family hot sauces with a whopping 650,000 SHU's, 'so Hot it's Spooky'! Made with the hottest chili in the world, the Naga Jolokia aka Ghost Pepper, followed by hot pepper extract, this hot sauce is MUCH hotter than the famous Dave's Gourmet Insanity Hot Sauce. This bottle comes with serious warnings, Keep away from eyes, children and pets, and don't consume if you have heart or respiratory problems. Dave's Gourmet Ghost Pepper Hot Sauce should be used as a food additive!
You litterally only need to use this bad boy one toothpick drop at a time! You have been warned chili-heads!
Scoville Heat Units (SHU) : 650,000
Hot Sauce Brand: Dave's Gourmet Inc.
Origin: United States
Hot Sauce Ingredients: Ghost Pepper/Naga Jolokia, Hot Pepper Extract, Salt, Vegetable Oil, Roasted Garlic Pulp, Acetic Acid.
Check out more products from: Dave's Gourmet Inc.