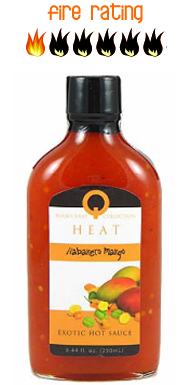 Blair's Q Heat Habanero Mango Exotic Hot Sauce is a part of the line of Blair's Q Heat products. Did you know that Q is the scientific symbol for heat?
Orange Habanero chili peppers and mangoes is the key ingredients to making this exotic hot sauce vibrant in color and sweet to taste with a nice heat that follows! This can easily be turned into a great dip by adding sour cream and cream cheese!
Scoville Heat Units (SHU): unknown
Hot Sauce Brand: Blair's Sauces and Snacks – Home of the Death Sauces since 1989
Origin: United States
Hot Sauce Ingredients: Purified water, habanero chilies, mango pulp, corn syrup, honey, vinegar, cane sugar, carrots, cayenne chilies, modified corn starch, tomato paste, lime juice, onion, vitamin C, spices and garlic powder.
Check out more products from: Blair's Hot Sauces and Snacks