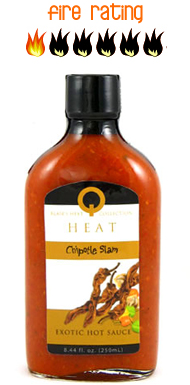 Blair's Q Heat Chipotle Slam Exotic Hot Sauce is a part of the line of Blair's Q Heat products. Did you know that Q is the scientific symbol for heat?
Four types of chili peppers, habanero, jalapeno, chipotle and cayenne have gone into creating Blair's Q Heat Chipotle Slam! This is one of their tastiest, smokiest sauces yet with a much milder heat content than other Blair products. The handy flask shaped bottle means you can slip it into your pocket and consumer with every meal!
Scoville Heat Units (SHU): 780
Hot Sauce Brand: Blair's Sauces and Snacks – Home of the Death Sauces since 1989
Origin: United States
Hot Sauce Ingredients: Habanero chili peppers, purified water, lime juice, carrots, white vinegar, red jalapeno chilies, chipotle chili peppers, fresh garlic, salt, tomato paste, cilantro, cayenne chilies, cane sugar, paprika, onion powder, spices, vitamin C.
Check out more products from: Blair's Hot Sauces and Snacks