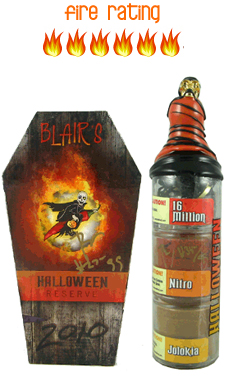 Blair's HOTTEST chili hot sauce to date, released on Halloween 2010, with a whopping 16,000,000 SHU! It contains only capsaicin crystals, and is the hottest possible capsaicin-based sauce. Only 99 bottles of "Blair's 16 Million Reserve" were produced, each one signed and numbered by the firm's founder.
Each bottle is a three tier fiery hell towering creation topped with a gold scull to really freak you out! Starting with at the bottom, the first level is Pure Jolokia Powder, above that layered with a second level of Blair's infamous Death Rain Nitro Powder and then to top it all off with the surreal Pure Capsaicin 16 Million Crystal Vial! Going down as one of the most unique reserves released by Blair in along time!
Because of the ingredients found in this product, we strongly recommend that you read the Product Disclaimer.
Purchaser of this product hereby acknowledges the intense heat factor of this product and the element of danger if misused. This product is over 100 times hotter than a jalapeno pepper and is a complex blend of fresh peppers and extracts. This product is not a sauce but a food additive and should be used as such only.
Scoville Heat Units (SHU): 16,000,000
Hot Sauce Brand: Blair's Sauces and Snacks – Home of the Death Sauces since 1989
Origin: United States
Ingredients: Pure jolokia powder, Blair's Death Rain nitro powder, pure capsaicin crystal
Check out more products from: Blair's Hot Sauces and Snacks