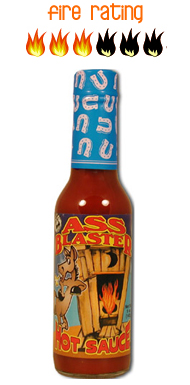 The classic Ass Blaster Hot Sauce by Ass Kickin' Hot Sauces a great hot sauce, when TABASCO Hot sauce doesn't cut it for you anymore and you want to move on to the next level! A lovely flavored hotsauce with a good amount of heat! Great with fried chicken! This bottle of hot sauce also comes with a fun outhouse box for those who are into collecting!
Scoville Heat Units (SHU): unknown
Hot Sauce Brand: Southwest Specialty Foods Inc.
Origin: United States
Hot Sauce Ingredients: Carrots, Habanero Peppers, Vinegar, Capsicum Extract, Salt, Garlic and Spices.